Brooke Shields
Brooke Christa Shields (born May 31, 1965) is an American actress and model. Some of her better-known movies include Pretty Baby and The Blue Lagoon, as well as TV shows such as Suddenly Susan, That '70s Show and Lipstick Jungle.
Brooke Shie...
Gwyneth Paltrow
Gwyneth Kate Paltrow ( /ˈɡwɪnɨθ ˈpæltroʊ/; born September 27, 1972) is an American actress and singer. She made her acting debut on stage in 1990 and started appearing in films in 1991. After appearing in several films throughout the ...
Jennifer Love Hewitt
Jennifer Love Hewitt (born February 21, 1979) is an American actress, producer, television director and former singer-songwriter. Hewitt began her acting career as a child by appearing in television commercials and the Disney Channel series Kids I...
Laura Smith
Laura Smith is a Canadian folk singer-songwriter. She is best known for her 1995 single "Shade of Your Love", one of the year's biggest hits on adult contemporary radio stations in Canada, and for her adaptation of the Scottish folk song "My Bonni...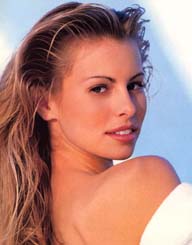 Nikki Taylor
Nicole Renee "Niki" Taylor (born March 5, 1975) is an American model.
Taylor was born in Fort Lauderdale, Florida, to Ken and Barbara Taylor, a highway patrol lieutenant and a photographer, respectively. She was raised in Pembroke Pines, Flo...